Fort Pierce Yacht and Ship welcomes first yacht
Jan 17, 2019 by Dorie Cox
By Dorie Cox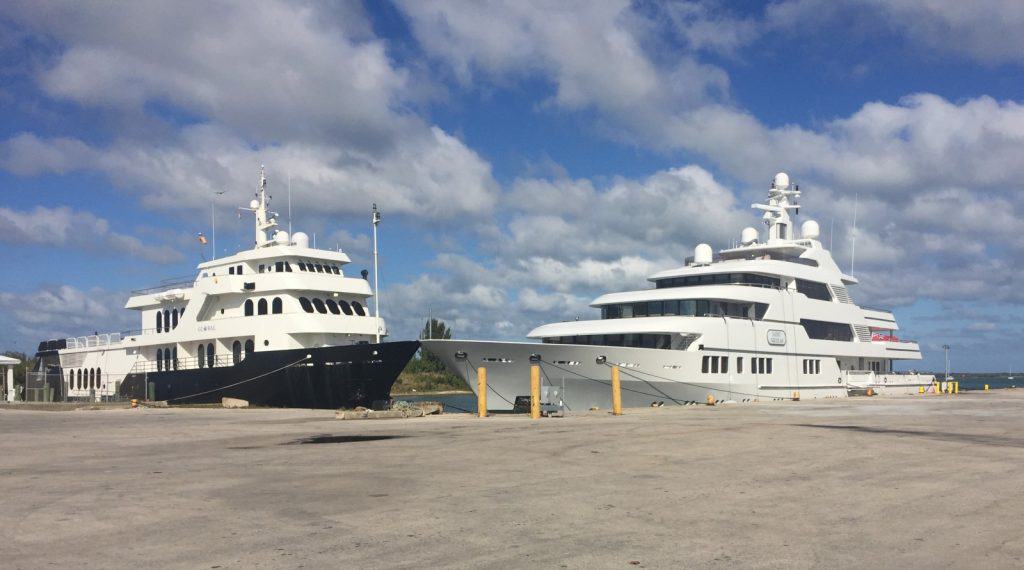 ORIGINAL POST: Jan. 17, 2019
Fort Pierce Yacht and Ship welcomed a 220-foot Shadow boat as its first vessel as the facility begins development in Fort Pierce, Florida.
M/Y Global arrived in December, according to Buddy Haack, head of Fort Pierce Yacht and Ship, and was delivered by Capt. Kostas Andreou, senior vice president of maritime operations with Shadow Marine.
"Kostas will be our guinea pig," Hack said by phone in mid-January. "We are happy to have him here to test the facility."
"We arrived on Christmas day at 7 a.m., and Buddy met us at the dock dressed as Santa Clause," Capt. Andreou said. "Santa tied our lines. Everyone is very friendly."
Fort Pierce Yacht and Ship bought the 5-acre property for more than $3 million and owns 417 feet of submerge land rights. Permit applications have been submitted for permanent moorings for Mediterranean-style dockage off the 205-foot wide seawall, Haack said.
The adjacent area, owned by St. Lucie County, is to be developed by Derecktor Holdings Inc.
"Contract and lease negotiations are ongoing and on schedule," said James Brewer, business development with Derecktor of Florida. "We hope for the announcement by the end of January."
Both properties are in the Port of Fort Pierce, about 40 miles north of West Palm Beach and about 100 miles north of Fort Lauderdale.

Topics: