By Dorie Cox

Construction continues at Port 32 Fort Lauderdale marina on Fort Lauderdale's New River. The fuel tanks are in and the in-water phase nears completion, according to Bruce Wallace, director of operations for Port 32 Marinas.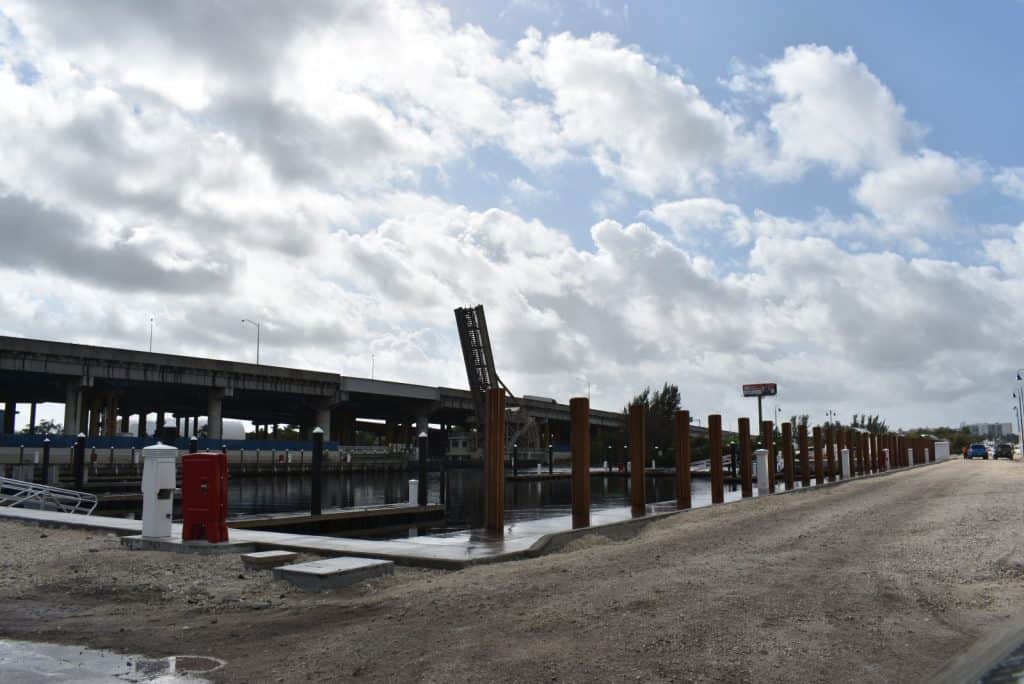 ORIGINAL POST: Aug. 1, 2018
By Dorie Cox
Property on Fort Lauderdale's New River is under construction to become a Port 32 Fort Lauderdale marina for yachts up to 150 feet in length. Formerly Fort Lauderdale Boatyard & Marina and Jackson Marine, and previously home to National Liquidators, the site is just west of I-95 on the north side of the river across from Marina Mile Yachting Center.
The property will be the only marine fuel dock on the New River by October, according to Rebecca McMenemy, director of marketing and property management of Port 32 in Charleston, South Carolina.
Dredging of the yacht basin is complete, new bulkheads are in place, and new docks and piles are onsite and awaiting installation, McMenemy wrote in an email to The Triton.
Partial demolition of existing buildings has been completed and the entire power system renovation is underway.
New, state-of-the-art 150-ton travel lift design plans are in for review and site plan development and permitting are in progress. All wet slip renovation permits have been submitted and approved, and the project is waiting for the upland site plan permit, McMenemy said.
The company expects pre-leasing for the property to begin in September after permit issues delayed the original May date, and storage, repair and retrofit services are scheduled to be available by October.
Concierge services and a captain/crew lounge with TV, wi-fi, laundry, shower facilities, grilling area and multi-purpose storage units are expected to be complete by next spring. And services will be available for tenders up to 55 feet — including hauling, service, storage and repair — by October of 2019.
Parent company Port 32 is the recently rebranded Atlantic Marina Holding LLC, according to a July 31 press release. The Charleston-based company also owns Florida-based PGA Marina in Palm Beach Gardens, Tierra Verde Marina Resort near St. Petersburg, and Tampa Harbour in Tampa. The company also manages Ripley Light Drystack, Shem Creek Marina, and the Harborage at Ashley Marina in Charleston.
"After completion of our redevelopments in Palm Beach Gardens and Fort Lauderdale, we will be among the largest slip owners in the state of Florida at approximately 2,600 slips," Joe Miller, Port 32's managing principal, said in the news release. "While we are Florida-focused, as we believe the state is the true center of boating in the U.S., we chose '32' because it means something to us. It is the latitude for Charleston, where our company originated and our headquarters is located."
As part of the rebrand, the Florida marinas are renamed Port 32 Palm Beach Gardens, Port 32 Fort Lauderdale, Port 32 Tierra Verde and Port 32 Tampa, and each is overseen by Port 32 Management.
The Fort Lauderdale property is located at 1915 S.W. 21st Ave., Fort Lauderdale (33312). For more information, contact Bruce Wallace, director of operations, at bw@port32marinas.com, +1 843-200-6764, or port32fortlauderdale.com. For details on the Port 32 brand, visit www.PORT32Marinas.com.