From the Bridge: by Lucy Chabot Reed
Planning for a shipyard visit and refit project often starts months in advance with a little piece of paper called an estimate, the initial interaction with a vendor or yard that could lead to the job. Captains put a lot more weight on those estimates than vendors might realize.
"Good estimates are critical," one captain said.
"Estimates are just the lead-in to the quote; it's one part of the big process," another said. "It is not the quote and should never be. Unfortunately, too many people use the words wrong."
"But it does define where we end up to begin the project," said a third captain.
This month's From the Bridge captains roundtable was held during the Refit Show in Fort Lauderdale. Individual comments from captains are not identified to encourage frank and open discussion. Each of the captains has at least 20 years in the industry, all have shipyard/refit experience, and several had yachts in shipyards at the time of the discussion. Find out who was there in the photo below.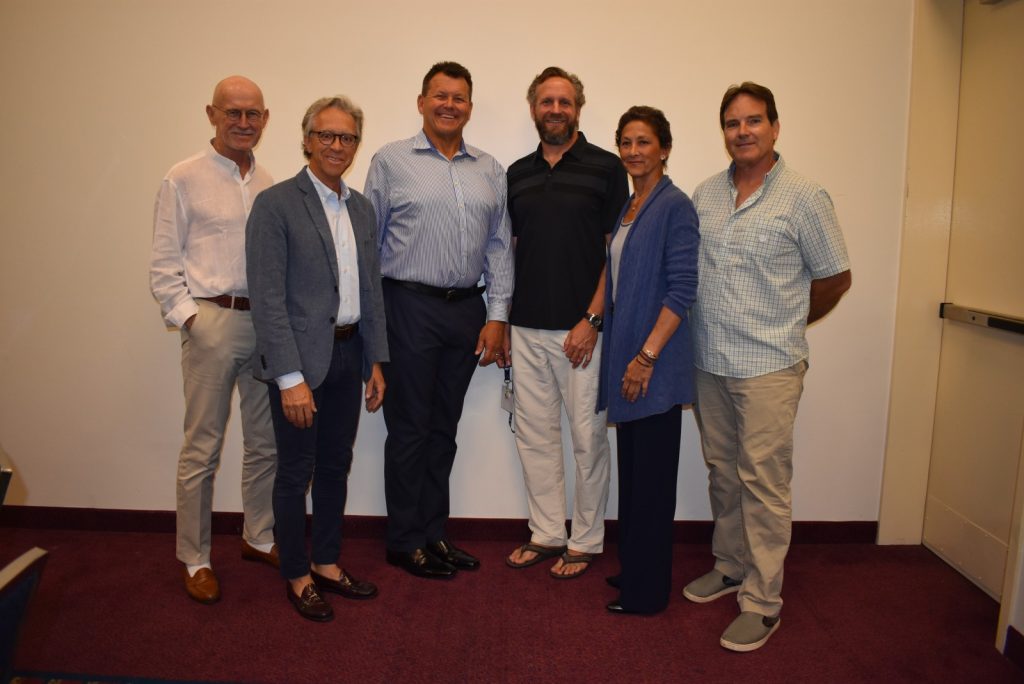 Apropos to refits, we started the discussion defining just what captains expect an estimate to be, and how it's different from a quote.
"The basis of contracting is managing time and money, and the time and money get defined by the estimate, which then needs to become a fixed quote," one captain said. "The inherent problem in the boat business is that people who don't have a project management background sign an estimate and lose complete control of the time and the money."
When it came to discussing details, these captains all agreed that a paint job was an appropriate example to show the significance of a good -- or bad -- estimate.
"Say you need a paint job," one captain began. "Different painters work at different yards, so you have to ask what yards he works with best, and you get an estimate from the yard. These are custom boats -- every one is different -- so they can't just say X Y Z. They have to give you an estimate."
"And if you use a painter who isn't typically in that yard, then you're going to get a surcharge from the yard," another captain said. "That's not on the painter's estimate, but that has to be factored in when you present the job proposal to the owner."
"Maybe you have a yard you want to go, you'll probably try to work with people who work well in that yard," the first captain continued. "If you have a guy you want to use, you pick his yard, or he may work at your dock. But everything comes down to the estimates."
"I had 14 vendors on the boat when I left two hours ago," said a third. "To get those 14 vendors, we produced over 40 estimates. Different vendors have different ways to … paint this thing, to fix it and paint it. They're all going to give me different estimates because they all have different skill sets, different locations. Some are working out of their car, some have a nice shop. And how they go about getting that job done is based on their estimate."
"We're defining the scope of work, and then we're collecting the estimates, and then we're negotiating them out apples to apples, and then we're turning them into a quote," a captain said.
That was key, they agreed: Estimates determine who captains will go back to for quotes.
"Some estimates come in that are so ridiculous you don't even call them back," one captain said. "I just went into the yard on Monday, and immediately, I called up all the yards I know and I asked for estimates -- well, it's a quote really because it's a fixed rate on haul out and everything -- and they varied 100 percent. Literally, 100 percent, and they are a quarter-mile from each other."
The difference, they agreed, was the level of work one vendor will do versus another. Again, they used the paint job example. One vendor will tape over the hardware, another will remove and buff it.
"Another might paint right over it all," a captain pointed out, generating laughter around the table. "Hey, we have all worked for someone who is not willing to pay for the hardware to get removed. We have to interpret what the person footing the bill is willing to pay for, what level of quality are they looking for."
"The reason we all discuss paint jobs is because it's the quickest way to get sideways on your costs," one captain pointed out. "For example, specifically excluded in any paint job is any additional faring work because it can't be defined until you tear the thing up. Anyone who does paint for a living is going to say, until we tear into it, we don't know where we're going to go with the faring."
"It should have been in a good estimate," another captain said. "If there's going to be faring, it's going to be this."
"It's going to be in a good estimate as T&M [time and materials], which we all know is the black hole where everything gets dumped," said a third. "Every boat is a can of worms, and we all know that."
"Estimates do help us define to the owner the justification of price," another captain said. "I always like to get a bad one, as they say, just so I have some reference point to say there is an alternative to doing it the proper way, and it is cheaper."
Do these estimates make their way to the owner? Does he decide who gets the job?
"It depends," one captain began. "My boss couldn't care less about any of it, as long as the boat gets put back in the water on the day I said it would be done for the cost I said it would be for."
"It depends on your boss," another said. "It ultimately comes back to the boss and what his prerogatives are. Many of them are industrialists and they understand these things intimately. My boss is sympathetic to these changes, these unknowns. The relationship with the boss is the one that needs to be most respected. How we deal with him is our real business, and spending his money wisely.
"I work with the same yard -- about 10 years now -- because they stand up for what they didn't do," this captain said. "They made good on some bad work by a subcontractor on our running gear, which cost them a lot of money, but they stood up for it because it was their sub. So I became a loyal customer of theirs, and now we negotiate changes over the phone."
So how do captains use these estimates? Do you use them to pick your vendors?
"Yes," said one captain.
"Definitely," another said.
"It's part of the vetting," said a third. "It's their foot in the door to get my attention, to show me how articulate they are, their attention to detail."
"How much do they listen?" another noted.
"Yeah, how much do they listen," the previous captain agreed. "Because if they're not and I get estimates back with three different stories, I'm going to pick the one I have the most confidence in, the one who listened. The other two just didn't get it; they missed it somehow."
"It can be something as simple as -- and I kid you not, this happened -- I handed him [a vendor] my business card, and he spelled my name wrong. OK, lots of people do, but he spelled the boat's name wrong."
"Oooo," several captains expressed in agreement.
Vendors will say that the process of submitting an estimate for a job is often a waste of time because captains will pick their preferred guy anyway. So why even go through this process?
"Because you meet new vendors," one captain began.
"I can't have the same vendor every single time because now if he goes away, I don't have a vendor," another said. "You have to kick work to other vendors. That's how they get their foot in the door."
"It also keeps you honest with the vendors," said a third.
"And it keeps them honest with you," noted another.
"I've shared estimates among the vendors when there's a real difference between the description and what one vendor really thinks needs to happen and another," the previous captain said. "I'll share that and ask them if they want to try again. I think it keeps everybody honest. It keeps me honest. There's things they're going to know, being more expert in that particular area than I am. If it's discussed in one and not the other two, I want to go back to the other two and see if it's necessary and if they want to make an adjustment to their estimate."
"Typically, you have your favorite vendors," another captain admitted. "My favorite is the guy who usually does a good job at a reasonable price, not because he's my friend, but because he knows how I work. He knows he's going to get paid and on time, so he gives me the best estimate."
The captains admitted that the estimate and even the quote process is far from fair for all the vendors involved.
"I know a captain whose boss always wanted to see three estimates, and she always picked the middle one, so he knew that he could spin which subs he wanted by creating their estimate to be the middle one," a captain said.
"How many of us have worked for an owner where we know what they are going to do?" another said. "We definitely throw in another one just because they want to see another one, but we know that's not going to be the one they're going to pick."
"We'll spin it so we know we're going to get the vendor who's going to do the work properly," said a third.
So how much information do you want on these estimates?
"As much detail as possible," one captain said
Isn't that a quote, though?
"No, an estimate is establishing the scope of work as it's perceived to be," this captain said.
But isn't that your job? Why does the vendor have to do that? You are using their time and expertise, and you're not going to pick them.
"That's just business," another captain said.
"I used to have to do a lot of estimating," a third captain said. "If I get the buyer's attention because I do a good job estimating, great. Yeah, I've given up all my secrets, but I'm trying to develop that relationship if I can, with that buyer or in our case, with that owner."
"The difference is respecting the vendor's time in doing that," a captain said.
"One factor that needs attention is that service writers, or people who give out estimates to us, they are sophisticated in what they are doing," another captain said. "They are selling a job, essentially. You have to pay attention to that sales process and realize that he may be forthcoming or he may not be forthcoming with something he knows is going to happen down the road. They're skilled at what they're doing."
"I want the detail on the estimate because it morphs into a quote," a captain said. "And if they did it right in the first place, they just change the header on the form and it comes back to me as a quote."
Owners like fixed quotes; vendors like time and materials quotes. Where does that leave captains?
"With the words 'not to exceed'," one captain said.
"The easiest thing in the world for us would be to drop the boat off at the shipyard and say fix it, then ask the boss to send a wire transfer," another captain said. "But that's not our job. Our job is to make sure fair work is done for a fair price, and you can't do that on time and materials."
So how do you choose who gets the job?
"It's a combination of everything," a captain said. "It's a combination of what the owner wants, first and foremost, but it's also who we know and trust, and are they going to be able to get the scope of work done in the timeline promised, realistically.
"One of the things I caution, and I had to do it three times this morning, is to vendors who overcommit," this captain said. "They don't leave a window in there for weather or for this or that or the other. And I'm sitting across the table from them, talking to the boss, and I'm shaking my head going, don't do it. Don't do it. Don't tell him you're going to get that done because you are not going to finish it by Friday if it rains Thursday. … That's what gets us in more trouble than anything else, when the boss calls and says 'This was supposed to be done last week.' We've all felt that sting."
"If we're going to paint the boat, you're going to tell me that's 120 days of downtime," another captain said. "That's 120 days that [the boss] can't use the boat, and I'm meant to get every other piece of work done in that 120 days. It can't be 121 days, so show me your Gantt chart. I want to look through it and say, OK, you made a plan that would work perfectly if everything works perfectly, so you've kind of made a mistake here. Or you look at it and say what kind of manpower are you going to put to this?"
"Yup," another captain said in agreement.
"All of a sudden you walk up to your paint job and there's four guys working, and you know that you need 10 to make the schedule that they put out work," the first captain continued. "All that gets defined in the estimate, and that schedule gets attached to the estimate, which becomes an attachment of the quote, which becomes an attachment of the sub contract."
Because many of these shipyard projects can be valuable and lucrative jobs, there's sometimes a little something extra on the estimate to show entice a captain to choose a certain vendor. Most of these captains expressed displeasure at that maneuver.
"We all know a captain who gets three paint job estimates -- he kind of knows who he's going to use, so he plays the quotes off against the vendor he wants to use, gets the vendor's number down low, and then goes back and pads the line item with the amount of money he's going to get back in his own pocket," one captain explained. "We know the captains who do that. We know the vendors who do that. If a vendor does that and I know about it, I will never talk to that person ever again. Because It's stealing."
"We have all been offered," another acknowledged.
But they do it because it works, right?
"They're taking a gamble," a captain said.
"In Europe, where it's standard, I have them put on the quote, captain's discount," another said. "Yes, you can do that, but you're going to put it right here on the line item, it's a discount, and I tell the boss I negotiated a lower price."
"Keep in mind, it goes both ways," said a third. "It's not always the vendor's fault."
"Plenty of captains ask for it," another agreed.
"If you succumb to that, you give up all your leverage in negotiation," said a third. "If you take a bribe from someone, they know you took it. You're compromised. You can't do anything to correct time or quality. They have the leverage now."
"And they bought it cheap," another captain said.

Lucy Chabot Reed is publisher of The Triton. Comments are welcome below.
Topics: