Top Shelf: by Chef Tim MacDonald
I see many a superyacht chef on our many websites who are high-tailing it to Japan or Thailand to do the cooking courses. But is that the best way to learn? Even the molecular gastronomy and chocolate courses offered in Europe are popular, but are they relevant to what the guests really want? 
Yes, it can all be beneficial. But when putting it into practice, I have found that, as a sole chef with 13 crew and 10 guests to feed, it's also kind of quasi-semi-irrelevant. Because time and energy is your enemy. And even more to the point, do the guests really want it? Or is it just ego art for the chef alone?
I am not knocking or bashing the formal training; I just think the guests know what they want, and that getting inside their head and learning this is the key to success. Immersion in a culture – living, breathing, becoming intoxicated with it – can be a better way. 
Say a Russian family and friends situated on the hook off Sorrento somewhere are offered a choice of Pavlova or a strawberry that looks like a tomato dessert. Now, I'll comb my hair like Trump for a year if the Russians go for anything but the Pavlova.
Furthermore, in the time it took to prepare the tomato dessert, who fed the crew? Who tended to the vegan, vegetarian and gluten-free requirements of those who keep getting hired on the 50m-plus class yachts? For sole charter chefs whose crew meals have become more of an issue with the insistence on observing everybody's eating disability these days, something's got to give.
I have based myself in Kiev on and off now for eight years, and I can definitely say that the oligarchs prefer homely, babushka-style cuisine with a few elements of Italian and Southern French dishes mixed in. A roast chicken with boiled eggs on the side, a fish soup with bread, dumplings, buckwheat or rye bread, Russian pancakes, veal cotelleta and sweets – Russians love their sweets. It's the only culture I have observed in which the men, on the whole, indulge in sweets – notably, honey cake, chocolate-cherry cake, mille feuille, lemon sorbet, Markiza Cake, and the ubiquitous Russian version of Pavlova cookies: zefirs.
Now, Kiev is not Moscow – in fact, referring to it as Russian will get you shot in Kiev these days if you say it loud enough – but I have immersed myself there for many years and have learned a few tricks that I can apply to the charter yacht industry. Incidentally, I never see Russian cooking classes online, yet Russians make up a huge chunk of the superyacht market, as well as the domestic London residence-based jobs market.
One of the easiest desserts to do is the Anna Pavlova. Ideally, the Markiza Cake with its many layers is the Ferrari F40 version of the Pav, but given the time restrictions on a yacht, I have adapted the toppings to what I have learned are the fruits that Russians favor most.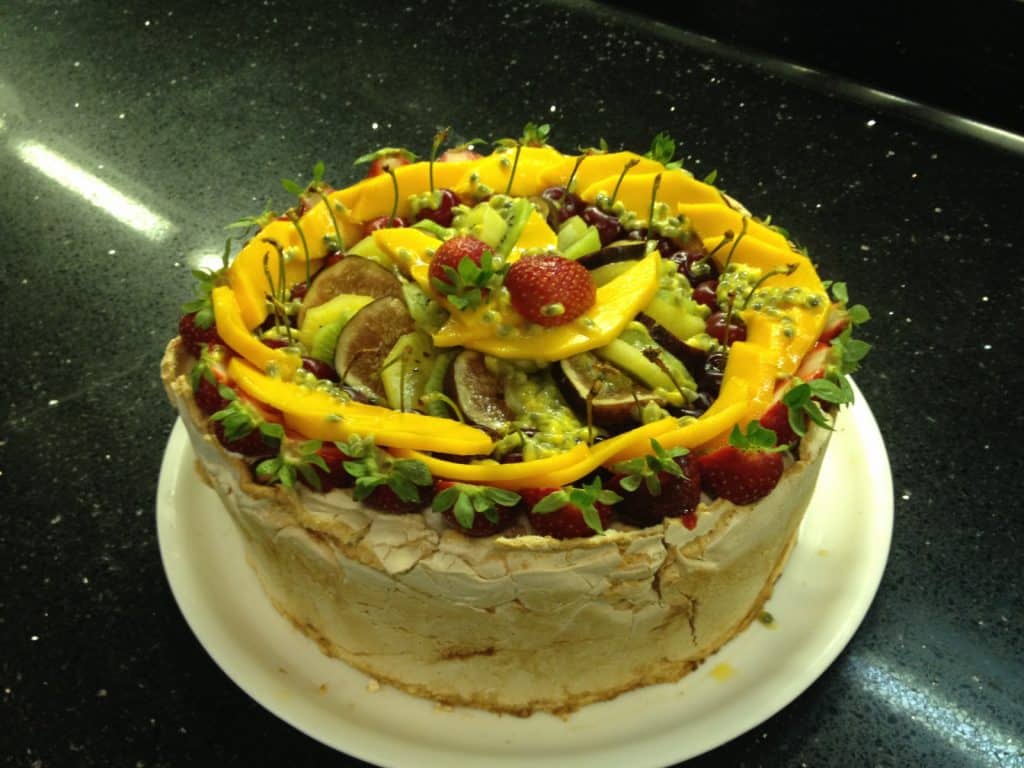 Ingredients
8 egg whites
Pinch of salt
500 grams caster sugar
4 teaspoons cornstarch
2 teaspoons white wine vinegar
1 teaspoon vanilla essence
Method
Make your meringue and mold it. This quantity will make a 35cm round. 
Reduce a preheated 180 C oven to 150 C and bake your shell for 30 minutes.
After 30 minutes, reduce the temp to 120 C and continue baking for 45 minutes.
Topping
4/5 cup vanilla whipped cream
Fresh, ripe passion fruit, mango, strawberries, as an example.
Top your shell with the cream and fruit. Gold leaf could also be used, as the Russians love all that glitters in gold.
Tim MacDonald (timothymacdonald.weebly.com) has more than 20 years experience as a chef. He was named Concours de Chefs winner for Yachts over 160 feet at the 2011 Antigua Charter Yacht Show. His recipes are designed for the owner and guests. Comments are welcome below.