From the Bridge: by Dorie Cox
With a puff, the ramifications of vaping, or using electronic cigarettes, wafted into the yacht industry.
A late-night alarm on board shocked a captain recently during a trip with the yacht owner – the yacht's smoke alarm was blaring. The culprit was a crew member who figured no one would know if a vape pen was secretly used in crew quarters.
"I rewrote the handbook the next day," the captain said. "I view it the same as smoking."
Individual comments are not attributed to encourage candid discussion; attending captains are identified in the accompanying photograph. Captains who make their living running someone else's yacht are welcome to join in the conversation. Email to editor@the-triton.com for an invitation to our monthly From the Bridge discussion.
The captain took responsibility for the first-time incident with the battery-powered device that delivers nicotine or flavors in the form of an aerosol, as the topic had not been discussed among the crew procedures. He had never considered that he needed to address such use on board the yacht.
"I assumed you all are smart enough not to do that here," he said as he handed each of them a copy of the new policy. "I gave you credit for being smart enough. But no, so here you go, sign this."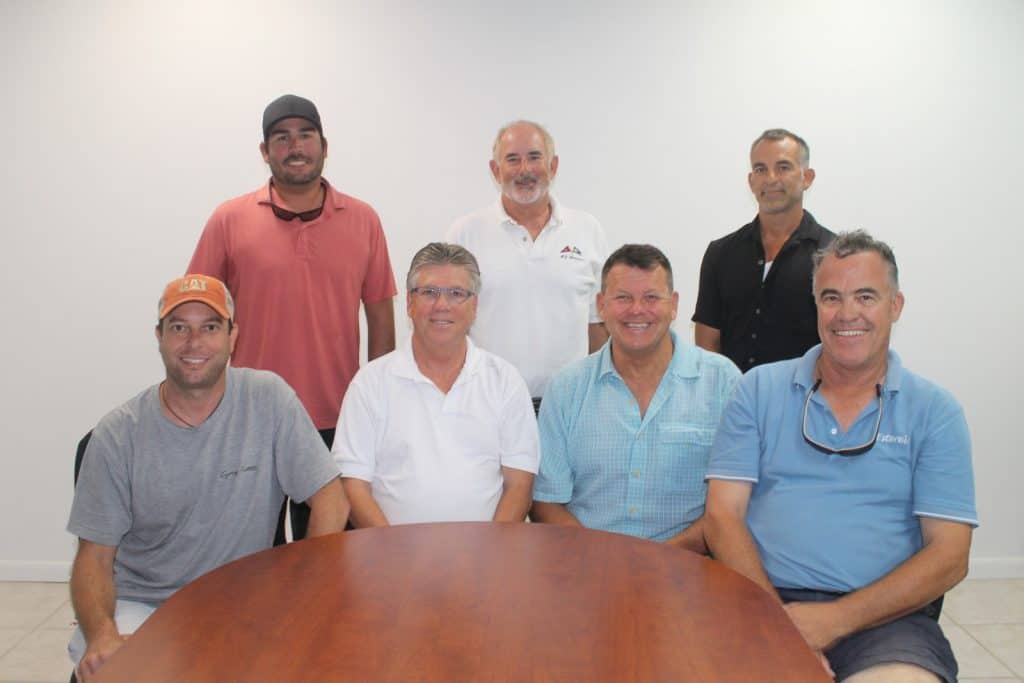 Several captains said they took for granted that vaping falls under the same rules, regulations and expectations as smoking, but after talking during this month's Triton From the Bridge captains discussion group, they agreed that is not the case.
Recently there have been media reports of health problems due to vaping, so it has been on the radar at The Triton office plaza in Fort Lauderdale. The office is surrounded by yacht crew agencies, yacht management companies and crew uniform shops, and in the middle of it all is a vape shop, where the manager said that yacht crew are a large part of the customer base.
Surprisingly, vaping is not mentioned on resumes in an industry that expects a crew member to prominently state whether he or she has visible tattoos or smokes. It seems that vaping is considered smoking by nonsmokers, but not by people who vape, a captain said.
"They do vape and they think they can get away with it," he said. "At first it was a gray area, but now, not so much."
Several of the nonsmoking captains in the discussion admitted to a lack of tolerance for smoking in any form, and all of them said they consider use of e-cigarettes as smoking. Even the former smokers prefer not to have smokers or vapers on board. Before the advent of vaping, several said they had fired crew who smoked when their resumes said they were a nonsmoker.
"They say, 'I only smoke when I drink,' " a captain said. "Well, that's smoking."
"If they lie, I have no use for them," another captain said. "In that little square of the CV, it needs to read 'no tattoos, no smoking and no vaping.' "
There are a couple of reasons captains are so against vaping and cigarette smoking. Top of the list is how it looks to others.
"It doesn't matter if you're on board, on deck, or smoking by the dumpsters – the owner doesn't want to see it," one captain said. "It looks very unprofessional."
He said he used to be among that crowd as a smoker, and said he thinks owners don't like it.
"It gives a bad impression – all the crew huddling off the aft deck. It means they're not working," he said.
Another captain quickly agreed, "The owner thinks, 'I don't want to pay for that.' "
Although cigarette smoking can take longer than a few puffs on a vape pen, he said, the minutes add up. He figures each cigarette takes about seven minutes, multiplied by several breaks.
"That's a lot of work not getting done," he said.
"In this job, you have to work with your mind and your hands," another captain said. "If you're busy with this [vape pen], then you're not working."
Vaping, like cigarette smoking, is nonproductive, another captain agreed.
"It becomes a priority, a distraction," he said.
And it is a bad image for the yacht, so don't wear your yacht shirt while vaping, a captain said.
"Pull out your last boat's shirt," another captain said with a laugh.
One captain looks at other business employees the same way.
"If I see workers on the phone or vaping, I take it off on the invoice in the yard," a captain said.
The conversation sounded as though captains did not want to ever see crew on a break from work. But they all admitted that work breaks are important. Several adhere to Maritime Labour Convention (MLC) minimum requirements for hours of work and rest; one requires crew to log two 15-minute breaks in an app on their phone to maintain compliance with MLC.
Are captains saying crew can't do what they want on their own time?
"You take a break to nourish," a captain said. "That time is for a drink of water and a snack, not to vape."
Some crew who are electronic or regular cigarette users take more breaks, which can create a problem among the team, a captain said.
"There can be disharmony among the crew if there is one smoker," he said. "The others say, 'So I have to smoke to get a break?' "
This is when we found out that several captains have worked with crew members who smoke, even when the overall yacht policy does not allow it. Some crew were occasionally excluded from the rules, and these included captains, engineers and chefs who were smokers. Most of the stories were from the time before vaping was introduced.
"It may be a double standard, but he's got special skills," a captain said of an engineer he once worked with who was a smoker.
"If I have a good engineer that smokes and wants to smoke in the engine room, if he wants to stay in there, I would not fire him," another captain said. "He's already sucking fumes."
E-cigarettes are available in a variety of forms. Some look like USB flash drives or pens, but all electronically heat a liquid into a vapor. These vape pens are charged through a USB port like a phone or other device, and add to the concern of an overload of laptops, iPads, tablets, cameras and other items being charged on board. One captain said the vape pens add to the potential fire concerns of battery-powered electronics on board.
Next came a discussion about the health issues of vaping. On a recent yacht delivery, a captain noticed the crew didn't just go outside for a break to vape, they carried their pens all day.
"They were hanging out of their mouths," he said, adding that it has to be a health issue, "although we don't really have a history yet."
He pointed out that the fluid that is heated to a vapor can vary in ingredients and quality, and some can be more harmful than others.
As of press time, seven people have died from e-cigarette-related illnesses.
Another captain brought up the issue of addiction with crew who vape nicotine. Several captains remembered crew who had to quit smoking to work on board. Do captains applaud crew who use vaping to control their nicotine use in order to quit tobacco dependence? Just barely.
"It is a better alternative and they don't stink, but it is still smoking," said a captain with zero tolerance. "There are different rules overall, but vaping and smoking are the same thing."
"It's a habit, and I look at it as a health thing – a bad habit," a captain said. "Then I assume they have other bad habits."
But it's not just nicotine that captains are concerned about.
"One thing that scares me is you can't tell if they're smoking pot," a captain said. "You don't know what they're vaping."
And on top of that, vaping can be hidden a bit easier than regular cigarettes.
"I think we're not going to know they're vaping. There's not a lingering smell," a captain said.
A captain asked how the industry would deal with vaping medical marijuana. That led to a conversation about some of the unclear legal issues related to marijuana use on boats and in other countries. We left that complex topic for another captains lunch.
One captain noted that insurance companies need to clarify how they cover vaping.
"If the boss is paying for the crew health insurance, well, this could be a problem," he said. "Maybe our premiums could go up?"
"Insurance could change, it's a valid conversation," another captain said. "I think this will be an issue."
After all this, as we began to wrap up the discussion, a bit of hypocrisy emerged. The mention of cigars revealed a crack in this group's strong aversion to the whole topic of yacht crew smoking or vaping.
Cigars are often excluded from the smoking conversation when yacht owners, guests, yacht captains and crew "enjoy a fine cigar." Some yachts even have humidors on board for humidity- and temperature-controlled storage.
"Cigar smokers are not regular smokers," a captain said.
And here's where the captains did not have an answer on how to handle such a situation. If the captain has a cigar once a week, the other crew think, "Why can't I do this?", one captain said
"If the captain smokes, it's almost permission for the crew to smoke," another captain said. "It has to be case-by-case."
But attitudes are changing, another captain said. "In 1975, there were ashtrays on board and crew lay in their bunks to smoke."
Another captain said he thinks smoking and vaping are more accepted in other countries.
"I think it's different on some foreign-flagged boats," he said. "There are more foreign crew that smoke."
As the conversation went back and forth, a captain pointed out that so much of yachting comes down to case-by-case decisions.
"It's all different. There are gay boats, nude boats, foreign boats – and there will be vaping boats," he said. "It bothers me when we all get put in one box."
So, like many issues in yachting, many captains want to be able to make decisions and handle things on board without more rules and regulations. They don't want to add more official paperwork, but they see that e-cigarettes and vaping may need to be addressed and spelled out more clearly to prevent problems.

Dorie Cox is editor of The Triton. Comments on this story are welcome at editor@the-triton.com.
Topics: