By Lucy Chabot Reed
Several captains stepped forward during a discussion yesterday about how noise pollution in the oceans impacts marine life to offer their support collecting data.
After hearing Michel Andre, director of the applied bioacoustics lab at the Technical University of Catalonia, explain how vital sound is to the viability of marine life — and the parts boats play in disrupting that sound — Capt. Michael Zerr of the 143m S/Y A asked if yachts can help by gathering data.
"The fact that you can access places we cannot go would be a major contribution to our work," Andre said. The conversation was part of the 23rd Captains' Forum at the Yacht Club de Monaco.
The European community began discussing these issues in the past decade or so, but realized it could not impose restrictions without data. So in 2010, the European Union gave its member states a decade to measure the level of noise in their waters and report back.
"If it's too high, they will have to take some action to minimize it," Andre said, noting that those "actions" could impact the shipping and yachting industries. "The noisiest vessels will have to move along or go away from the coast."
He said scientists are aware of the costs involved with ships and shipping and will balance reducing noise pollution with protecting commerce as well as recreation.
Capt. Zerr wondered if yachts could carry noise pollution-measuring devices. While there is not yet a way to measure noise levels from onboard a vessel underway, Andre said yachts can be helpful gathering data while moored in places scientists do not yet measure, especially the polar regions.
"Just having it onboard and seeing it will raise awareness as to how much sound we make," Capt. Zerr said. "We may see it and remember 'I'm loud. I can take it easy here,' which is an easy thing to do."
Taking it easy is one of the things yachts can do to reduce their noise pollution footprint. But going slower can be less efficient, so it doesn't always translate into savings for the planet.
"If you go slower, you make less noise, but it takes longer," Andre said. "In the open ocean, there is not a big footprint for yachts [compared with commercial ships] so the impact isn't felt there. But when you get to shallower water where marine life is closer, this is where is it wiser to go slower."
The challenge is that noise impacts of the same boat will be different depending on the depth and temperature of the water as well as the make-up of the seabed and what other marine traffic is in the area. And that's why data is so important now, Andre said.
"The thing I like about this problem versus plastic in the water or PCBs is that there is no biological persistence," said Capt. Sean Meagher of the 52m M/Y Latitude. "If we crack this, it's fixed."
"That's right," Andre said. "If we stop the noise, the harm ends. I am confident noise pollution will be solved before the other sources of pollution can be."
Like Latitude, Capt. Fraser Gow of the 55m M/Y Gene Machine has traveled to the polar regions and was eager to minimize yachting's impact on the planet, a topic of discussion in recent years, with ideas being sparked and discussed between captains, architects and builders. New technologies have been tried, and fully hybrid and now fully electric vessels have been launched.
Capt. Christoph Schaefer, relief captain on M/Y Gene Machine, was at the seminar and asked about his idea for a tender that can operate in stealth mode. As a diver, he noticed early on that marine life interact differently with divers when they use rebreathers, and how one sharp sound will scatter everything, but the steady rumble of an engine that gets louder, peaks and then dissipates doesn't seem to bother them at all.
So he asked Andre what sort of frequencies would create the least pollution.
"High frequencies are better absorbed by the ocean and don't travel as far," Andre said. "Low frequencies can travel hundreds of kilometers. Fish are not impacted by noise. They simply leave, and then they come back. They have no lesions on their tissues from that exposure to sounds."
But mammals are impacted, and different species are impacted in different frequencies, he said.
Capt. Schaefer is working with colleagues on his tender concept.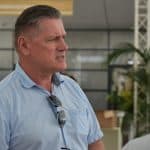 "There is no usable superyacht electric tender," he said, pointing to the weight of the batteries and the time to charge as key hurdles to having an electric tender onboard. But the industry needs to make some changes, he said.
"We are going to get to a point where our license to operate will be revoked," he said, pointing to Norway's upcoming deadline that require zero emissions in its fjords beginning in 2026. "How long do you think it will be before Monaco says, no more combustion engines in our port either?
"As an industry, we need to clean up our act. We need to consider new things. Look out there," Capt. Schaefer said from the top deck of the Monaco Yacht Club, the show spread out below. "We're not the richest industry in the world, but there's still a lot of money out there. Owners can invest in this technology, but every one of those yachts has a combustion engine. It should be the managers and captains driving this, and telling the owners they should try it."
Lucy Chabot Reed is publisher of The Triton. Comments are welcome below.
Topics: