Story and photos by Dorie Cox
"It was just like charter," said Capt. Paul Clarke of M/Y Loon. "But instead of champagne, we were running water to the beach."
But it wasn't, really.
It was just days after Hurricane Dorian hit the northern Bahamas. Provisioning aboard M/Y Loon included donated disaster relief supplies. And although the yacht spends eight months a year in the Bahamas, this trip to Grand Bahama was filled with uncertainty after the Category 5 storm.
A drone video showed the 155-foot Christensen small and alone in the bright blue waters just off Marsh Harbour with the caption: "Only boat here." The next posted videos showed Loon's tender heading toward the island, this time: "First people ashore."
Deckhand Henro De Vos usually uses his GoPro and drone to record smiling charter guests surrounded by green trees and colorful beach toys, but since Sept. 3 his work has shown damaged buildings, broken docks, and brown vegetation. Plus, "charter guests" were up to 28 members of Global Support and Development (GSD), a non-profit group that specializes in disaster relief and humanitarian assistance arranged with YachtAid Global (YAG), a non-profit that coordinates yachts to mobilize to areas of need around the world.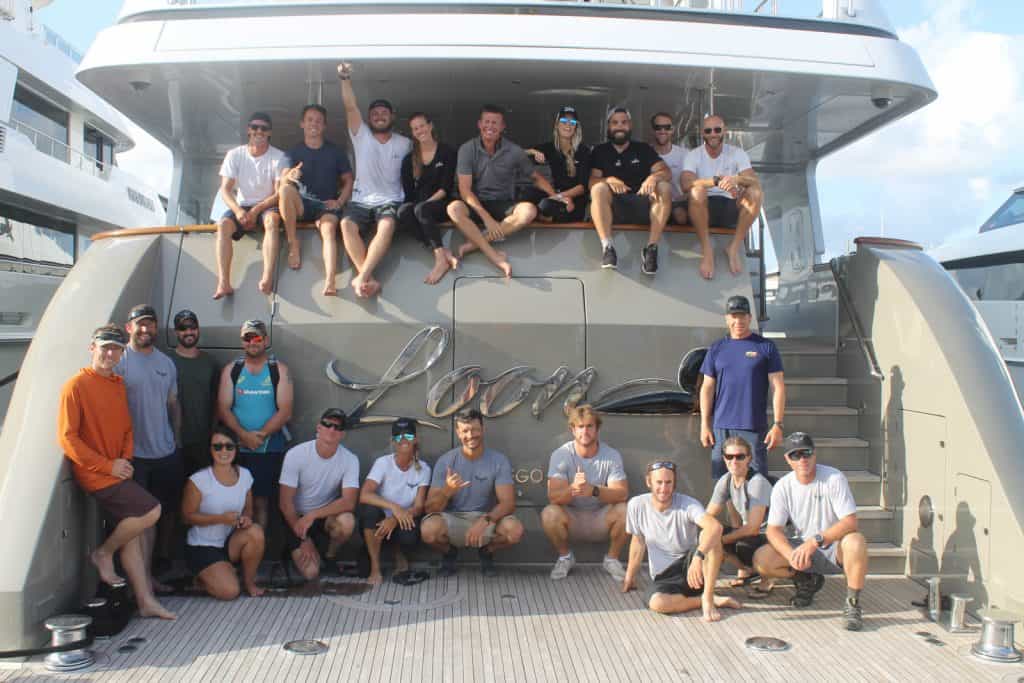 But just like on charter, the yacht's crew worked hard for a week.
"The crew did no onboard duties; it was all about the mission," Capt. Clarke said of ferrying doctors, paramedics and GSD personnel between 200-300 miles a day in the tender. They also delivered ice and water. "Ice was more valuable than gold. We ran it into the aid workers and the locals."
Although different from seasonal charters, similarities were a heavy workload and long hours.
"Six nights felt like a month," Capt. Clarke said. "We would finish at 1 a.m. when the last tender came back. Then we would be back out at 4 a.m."
During the first days after the storm, GSD crew assessed damage with a focus on security while Capt. Clarke and First Officer Wesley Tucker measured sonar soundings of the turning basin and pier area.
"Our aim today is to drop anchor a mile offshore and do tender runs in," Capt. Clarke said by WhatsApp on Sept. 4. "We'll do a quick ground assessment, and then ferry medical supplies into the clinics. We'll try to do sounding of the harbor to see if bigger vessels can get in."
Each night, M/Y Loon moved 2-3 miles offshore and went dark for safety.
The maximum sustained winds of 185 mph that stalled over the area for about 24 hours left no one to manage boat traffic, so Bosun Matthieu Guillaume stepped up to act as temporary harbormaster. As vessels began to arrive with aid, he monitored marine radio channel 16 from the tender in Marsh Harbor. Guillaume maintained communication with incoming and outgoing vessels and radioed in for crew on Loon to check the automatic identification system (AIS) for their location, direction, speed and details to keep traffic organized.
Meanwhile, Chef Cornelius Muller's food was a bright spot for the GSD crew.
"I think they were most grateful for salad because they had been eating dry rations," Muller said.
Chief Stew Maxine Robert and Second Stew Lizelle Tucker "kept things moving" onboard with organization, meals, and laundry. Engr. Kevin Parkinson and Second Engr. Lloyd Schluter kept the yacht's systems running to provide safety and managed systems to make water and offload fuel.
Parkinson dived on a ferry loaded with evacuees to get it running and he used his skills as an engineer to restart the generator at the airport in Marsh Harbour, then helped with an airstrip assessment. He worked on the shore power and distribution panels that were water-logged and destroyed, he said.
"You have one chance with power like that, 480 volt," Parkinson said. "There is no game with that."
At the airport some of the yacht crew helped with baggage and handling and Muller stood by with tools to help Parkinson.
"Each of the crew have different skills and there was no way I was going to stay onboard," Muller said. "I don't want to hear what you guys did and you say, like, 'How was your day [onboard]?' I want to help."
Each of the crew said the work was worth the challenges. Capt. Clarke remembered a yacht that worked with YAG to provide disaster relief in Vanuatu after Category 5 Cyclone Pam in 2015. That's when he knew he wanted to help people. And he had a crew that agreed. Everyone "ran 100 percent," he said. "We definitely were 'mission accomplished'."
After the yacht docked back in Fort Lauderdale, several of the crew reflected on the trip at a YAG press conference and after party on Sept. 12.
"The yacht is not damaged," Clarke said. "With fuel and hard work, it's easy. Everyone should be doing it."
"It was a rewarding feeling inside," Parkinson said of the long hours. "Our three hours' sleep didn't mean much when you can help people instead."
With a background in search and rescue in St. Thomas, Guillaume knew the difficulties the Bahamians face.
"The civilians faced something you usually only see in a war zone," he said. "We're really proud we could help."
And although work to rebuild in the area will be a long-term project, Capt. Clarke said there is hope, and the yacht plans to return.
"We hope to charter there next year, if not the Abacos, definitely back to the Bahamas," he said. "I think once this really sinks in, it's kind of a bad dream."
Capt. Clarke recalled the feeling he had as people evacuated – "It got quieter and quieter until it felt like a ghost town" – and the many messages on his phone and social media. One from a person on island that said his grandfather had a stroke four days before.
"No one is listening," the person wrote. Later correspondence said, "I thought someone would help, no one is coming."
The message was immediately relayed to the crew of GSD.
"They got a helicopter there in 20 minutes; they said he would have been dead," Capt. Clarke said. "I'm getting chills. We had no idea at the time of our impact."
Dorie Cox is editor of The Triton. Comments are welcome below.
Topics: