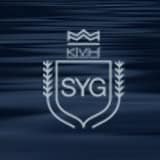 KVH launches unlimited VSAT streaming service
Nov 24, 2019 by Triton Staff
Rhode Island-based KVH Industries has announced the November launch of KVH Elite, billed as a premium, unlimited VSAT streaming service delivering HD-quality, dedicated bandwidth to yachts in selected geographic regions.
The initial launch of the new streaming service in November will cover a region from Florida through the Caribbean, including the islands of the eastern Caribbean. Service in the Mediterranean is expected to follow in 2020.
According to a company press release, KVH Elite enables users on board to use their favorite apps for streaming HD movie and TV content, music and more with no overages or data limits. The streaming service does not require any hardware changes to the antenna system or its belowdecks control unit. Yachts currently using the TracPhone V7-HTS or the TracPhone V11-HTS are KVH Elite-ready for activation.
KVH Elite is available as a weekly or monthly airtime plan, and seamless access to the service will be managed by KVH Superyacht Group, according to the company. Yachts can use selected high-speed and unlimited-use data plans and the benefits of KVH's global HTS service when not in the KVH Elite streaming regions.
For more information, visit kvh.com/unlimitedstreaming.
Topics: